CLEAR MAG COVER
Fully compatible with MagSafe
for fast magnetic charging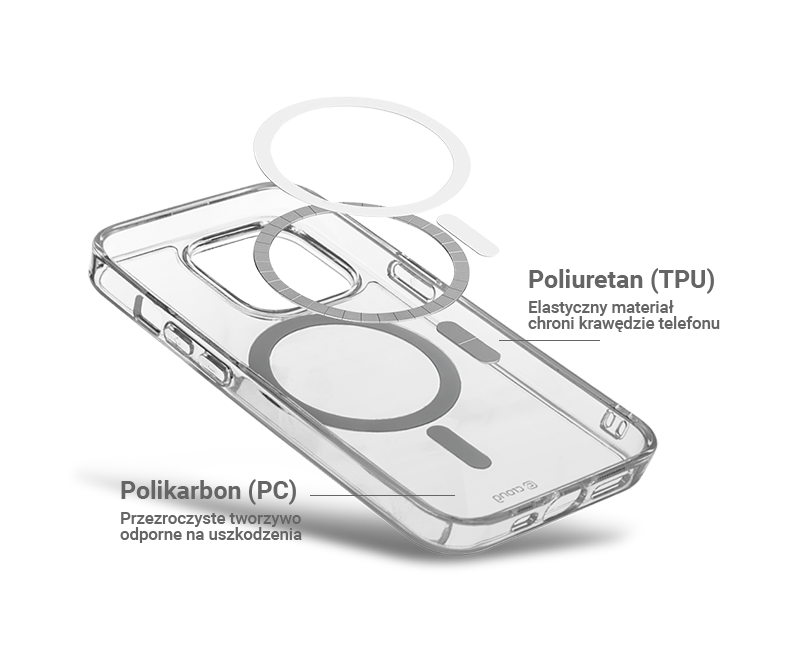 THE PERFECT MAGSAFE CASE FOR IPHONE 13 PRO
In order to ensure a precise and secure connection to all MagSafe accessories, our Clear MAG Cover has been equipped with a special attachment ring composed of a number of high quality magnets installed inside of it.
This guarantees a perfect alignment whenever you attach any MagSafe accessory to your iPhone 13 Pro. Another great benefit of strong magnet connection is faster wireless charging while using your MagSafe charger. At the same time, the case is also compatible with Qi-certified chargers.
ULTRA-CLEAR PROTECTION FOR EVERYDAY USE
Our Clear MAG Cover lets you keep the original look of iPhone 13 Pro while adding some discreet protection to it. Furthermore, a clear backplate shows the Apple logo and the special surface treatment prevents watermarks.
The case features raised bezel to resist screen shatters or cracks during impacts. This kind of solution allows you also to safely put the iPhone face-down e.g. in a restaurant or during meetings. The additional protection at the back guards camera as well.
FEATURES:
· Compatible with MagSafe accessories
· High quality magnets for secure connection
· Crystal clear & anti-yellow design
· Raised bezel for screen protection
· Additonal rear camera proteection
· Side buttons for easy-press
· Lanyard* attachment (*not included)
· Precise cutouts for speakers & Lightning port