FLEXFOLIO
full support for attaching
and charging Apple Pencil
Comfortable viewing

Ergonomic typing on the on-screen keyboard
Built-in storage for Apple Pencil stylus
Automatically puts the screen to sleep and wakes it up
Microfiber lining
Effective Anti-Shock protection
Elegant and durable fabric-like material
FLEXIBLE ANTI-SHOCK DESIGN
The case uses a 4-panel screen cover, which is equipped with magnets. Their main function is to automatically put the iPad to sleep and wake it up when the case is closed and opened. They also allow you to lock the cover when it is rolled up so that it does not automatically pull apart when using the iPad in video or writing mode. The cover also allows the iPad to be held comfortably when taking photos or videos.

The main part of the FlexFolio case is made with Anti-Shock technology. The special Honeycomb pattern disperses the force of impact when falling to the ground. The flexible material is also shatterproof and makes the case easy to put on and take off. On the outside, the FlexFolio case is finished in a modern fabric-like material. The microfibre lining on the inside of the cover makes it easy to keep the screen clean.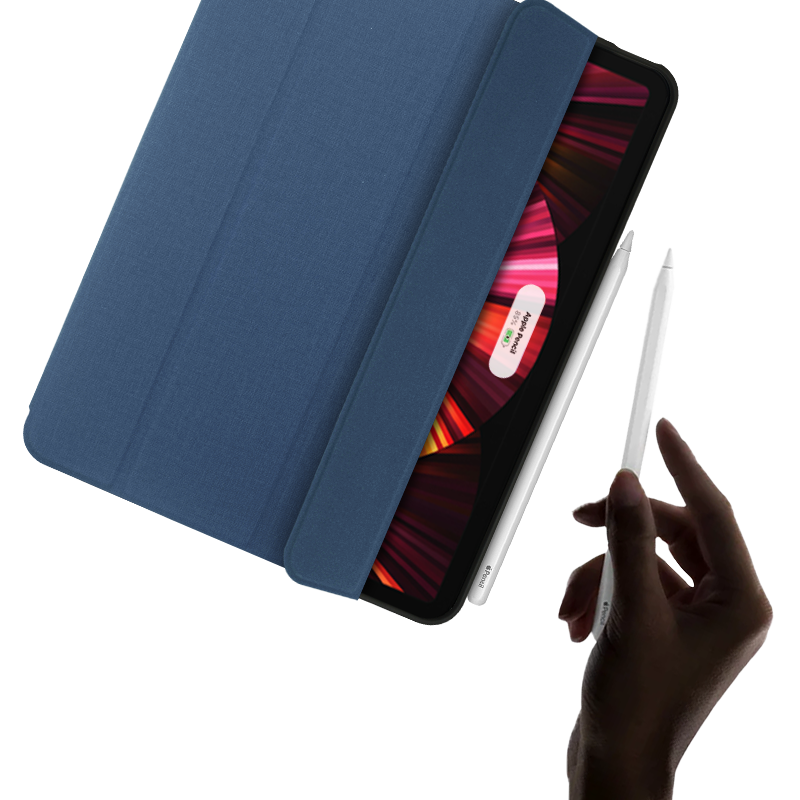 COMPATIBLE WITH MAGNETIC STYLUS CHARGING
The FlexFolio case is a unique protective case for the new 11" iPad Pro (2022-2021) and 10.9" iPad Air (2022/2020).

The ergonomic design allows you to store the Apple Pencil stylus (sold separately) on the left side of the case, making it convenient to operate the iPad touchscreen with your other hand. If required, the stylus can be attached to the iPad on the right side of the screen and charged wirelessly (the Crong case has a special recess for this purpose).